Beware Of 'The Message' Bible Version
By David J. Stewart | July 2012

The Damnable MSG Bible Max Lucado Quotes From

I recently read Max Lucado's heretical booklet, "The John 3:16 Promise" (adapted from his book "John 3:16: The Numbers Of Hope"). In his writings and books, Max Lucado quotes from "The Message: The Bible in Contemporary Language" (MSG).

I was glad to be sitting down when I glanced through the MSG version of the Bible...

The Message: The Bible in Contemporary Language was created by Eugene H. Peterson and published in segments from 1993 to 2002. It is a non literal translation, tending towards paraphrase, of the original languages of the Bible.

SOURCE: The Message (Bible) - Wikipedia, the free encyclopedia

Here's John 3:16 in the MSG Bible. (By the way "MSG" also stands for "Monosodium Glutamate," a food preservative that gives a lot of people headaches. Well, the MSG Bible will send you to Hell).

Here's some shocking comparisons between the MSG verses the inspired and precious King James Bible Bible. The street jingo, hip hop, Ebonics, "Get down and go daddy, yo hubba bubba" language of the MSG is irreverent to God (not to mention as heretical as can be)...
| | |
| --- | --- |
| The Message (MSG) | King James Bible (KJB) |
| John 3:16 — "This is how much God loved the world: He gave his Son, his one and only Son. And this is why: so that no one need be destroyed; by believing in him, anyone can have a whole and lasting life." | John 3:16 — "For God so loved the world, that he gave his only begotten Son, that whosoever believeth in him should not perish, but have everlasting life." |
| Genesis 1:1-2 — "First this: God created the Heavens and Earth—all you see, all you don't see. Earth was a soup of nothingness, a bottomless emptiness, an inky blackness. God's Spirit brooded like a bird above the watery abyss." | Genesis 1:1-2 — "In the beginning God created the heaven and the earth. And the earth was without form, and void; and darkness was upon the face of the deep. And the Spirit of God moved upon the face of the waters." |
| John 1:12 — "But whoever did want him, who believed he was who he claimed and would do what he said, He made to be their true selves, their child-of-God selves." | Joh:1:12 — "But as many as received him, to them gave he power to become the sons of God, even to them that believe on his name." |
| Acts 16:30-31 — "Sirs, what do I have to do to be saved, to really live?" They said, "Put your entire trust in the Master Jesus. Then you'll live as you were meant to live—and everyone in your house included!" | Acts 16:30-31 — "And brought them out, and said, Sirs, what must I do to be saved? And they said, Believe on the Lord Jesus Christ, and thou shalt be saved, and thy house." |
| Matthew 7:21-23 — "Knowing the correct password—saying 'Master, Master,' for instance— isn't going to get you anywhere with me. What is required is serious obedience—doing what my Father wills. I can see it now—at the Final Judgment thousands strutting up to me and saying, 'Master, we preached the Message, we bashed the demons, our God-sponsored projects had everyone talking.' And do you know what I am going to say? 'You missed the boat. All you did was use me to make yourselves important. You don't impress me one bit. You're out of here.'" | Matthew 7:21-23 — "Not every one that saith unto me, Lord, Lord, shall enter into the kingdom of heaven; but he that doeth the will of my Father which is in heaven. Many will say to me in that day, Lord, Lord, have we not prophesied in thy name? and in thy name have cast out devils? and in thy name done many wonderful works? And then will I profess unto them, I never knew you: depart from me, ye that work iniquity." |
| Acts 2:38 — "Peter said, "Change your life. Turn to God and be baptized, each of you, in the name of Jesus Christ, so your sins are forgiven. Receive the gift of the Holy Spirit." | Acts 2:38 — "Then Peter said unto them, Repent, and be baptized every one of you in the name of Jesus Christ for the remission of sins, and ye shall receive the gift of the Holy Ghost." |
| Romans 10:13 — "Everyone who calls, 'Help, God!' gets help." | Romans 10:13 — "For whosoever shall call upon the name of the Lord shall be saved." |
| Isaiah 7:14 — "So the Master is going to give you a sign anyway. Watch for this: A girl who is presently a virgin will get pregnant. She'll bear a son and name him Immanuel (God-With-Us). | Isaiah 7:14 — "Therefore the Lord himself shall give you a sign; Behold, a virgin shall conceive, and bear a son, and shall call his name Immanuel." |
ISAIAH 7:14 - Can you believe how Satan has butchered the Bible? Notice that the MSG version attacks the virgin birth in Isaiah 7:14. Instead of saying that a virgin shall conceive, the MSG says that a woman who is a virgin will get pregnant. THAT'S WHAT ANY VIRGIN WHO HAS SEX DOES! There's a 100% difference between a virgin conceiving verses a virgin getting pregnant. Notice how subtle the wording is. They butchered Matthew 1:23 (which quotes Isaiah 7:14) the same. There's a big difference between a virgin conceiving verses a virgin getting pregnant. The reader is not led to believe in the virgin birth of Christ by the poor wording of the MSG version.

ROMANS 10:13 - Notice how the Devil butchers Romans 10:13 in the MSG. Instead of trusting upon the Lord Jesus, now it's just asking God for help. Instead of being saved, now it's just getting help. How lame. They've taken away salvation.

ACTS 2:38 - The MSG version has butchered Acts 2:38, teaching the heresy of Baptismal Regeneration. Also, since when is changing your life a requirement for salvation? That is not what repentance means. Eugene H. Peterson is the sole author of the MSG perversion, which clearly follows the corrupt Greek of Westcott and Hort (as do all modern corrupt Bibles). The word "for" in the King James Bible is the Greek word eis and means "a primary preposition; to or into (indicating the point reached or entered), of place, time"; hence, the Bible commands us to repent and be baptized because your sins have ALREADY been forgiven. You've already reached the point of salvation; therefore, now you ought to be water baptized because your sins are already forgiven in Christ.

MATTHEW 7:21-23 - The MSG version perverts the Scriptures, teaching that the way of salvation is "serious obedience." In sharp contrast, the King James Bible teaches in John 6:40 that God's will to be saved is TO BELIEVE ON THE LORD JESUS CHRIST! Serious obedience is a matter of discipleship, not salvation. Eternal life is a free gift, which is freely received without any obligation.

ACTS 16:30-31 - Instead of being saved, now it's just living the life you were meant to live.

JOHN 1:12 - Notice that the MSG version adds the requirement of doing what he said to be saved. The King James Bible simply says to receive the Lord, but the MSG version says you must also do what he said (implying works salvation). Also, notice that the phrase "to them that believe on His name" is removed completely.

GENESIS 1:1-2 - This is just weird how the MSG version renders the Scripture passage. They added the word "bottomless." No where does the Bible say that the world was bottomless!

JOHN 3:16 - The MSG version totally denies the Biblical teaching of eternal life. They says that those who believe on Christ can have a whole and lasting life. What? Any unsaved heathen can live a whole and lasting life. Look at Playboy founder Hugh Hefner, who has lived one of the most fulfilling, pleasurable and trouble-free lives in history. Hugh is near 80-years old and shacking -up with three sisters, having sex with all of them. He's a multi-millionaire. In fact, he has hundreds-of-millions. Hefner was dating 7 women at one time, indulging in more sex than most men could ever dream of, but Hebrews 13:4 warns "Marriage is honourable in all, and the bed undefiled: but whoremongers and adulterers God will judge." ...

"Hefner then began to move an ever-changing coterie of young women into the mansion, even dating up to seven girls at once, among them, Brande Roderick, Izabella St. James, Tina Marie Jordan, Holly Madison, Bridget Marquardt, and Kendra Wilkinson. The reality television series The Girls Next Door depicted the lives of Madison, Wilkinson and Marquardt at the Playboy Mansion."

Ecclesiastes 8:12, "Though a sinner do evil an hundred times, and his days be prolonged, yet surely I know that it shall be well with them that fear God, which fear before him."

My friend, the precious King James Bible promises us EVERLASTING LIFE. The way the MSG is written subtly speaks only of this earthly life. God's promise is for everlasting life that has no end. Words are powerful and the arrangement of words is critical to meaning. The MSG version rearranges words in such a way that the Bible is no longer appears divine, but humanistic and manmade.

Also, please note that the MSG version contains all the same corruptions as the New International Version (NIV) and a bunch more. The MSG is a paraphrase from Hell. John 3:16 removes the word "begotten," claiming that Jesus is God's one and only Son. That's a lie! John 1:12 says that every believer is an adopted son of God. My friend, if you have an MSG version, throw it in the garbage. Pour maple syrup all over it so no one else picks it up to read. Rip it up! Burn it at a barbecue! Get you a King James Bible, which are God's inspired Words!
Max Lucado Exposed! | Max Lucado's False Gospel
Frankenstein Ministers

Today's ministers are sadly resemblant of Dr. Frankenstein, who took body parts from various dead corpses and assembled them into one zombie, calling it life. Today's Modernists and liberal preachers take quotes from different dead Bible perversions and assemble them into Frankenstein-like New York Times Bestseller books, falsely claiming they'll change your life. I'm not interested in body parts from different corrupt Bible versions. The parallel is disturbingly accurate. Today's ministers are like Dr. Frankenstein, trying to create life from the butchered dead. You can't take body parts from dead Bibles and attempt to create spiritual life in a church congregation.

The bottom line is that you'll starve to death spiritually reading Max Lucado's book; but worse, you'll be led into the sinful Ecumenical Movement that yokes born-again evangelicals with unsaved Roman Catholics. God commanded the prophet Balaam (see Numbers chapter 22) NOT to allow God's children to yoke together with the Devil's children in the world. Balaam today is known as the infamous "prophet for hire," because in exchange for the good life he disobeyed God and brought the righteous together with the heathen, thus polluting the land with idolatry, wickedness and apostasy.

Any unsaved Roman Catholic would feel at home reading one of Max Lucado's books, or listening to a sermon preached by Mr. Lucado. Read the following sinner's prayer that Max Lucado uses to lead a person to receive Christ...

"Father, I believe you love this world. You gave your one and only Son so I can live forever with you. Apart from you, I die. With you, I live. I choose life. I choose you."

SOURCE: 3:16—THE NUMBERS OF HOPE, by Max Lucado; Nelson Publishers, pg. 129, 2007

That's it? That's what a person needs to pray to be saved? Well, first of all, no prayer can save a person. According to 1st Corinthians 15:1-4 we are saved by believing in our heart that Jesus died, was buried and rose from the dead, and trusting upon that (THE GOSPEL) as payment for our sins. Jesus paid it all! That's Biblical salvation. We are saved by grace through faith PLUS NOTHING!

Max Lucado is a prophet for hire, as is Billy Balaam (Graham), attempting to unite different religions through watered-down, milquetoast, apostate mumbo-jumbo sermonettes and shallow books that don't take a stand for the doctrines of Christ (such as the virgin birth, Christ's deity, Godhead, Jesus' literal blood sacrifice, bodily resurrection, sinless life, et cetera).

Mr. Lucado also horribly fails to explain what he believes about repentance unto salvation, because it is clear that he is a Church of Christ minister, still. The church may have changed their name, but Max Lucado has NEVER renounced his Church of Christ beliefs and faith. The Church of Christ is sincere, no doubt; but they are of the Devil and sincerely on their way to Hell in a false plan of salvation. Salvation is by grace through faith PLUS NOTHING!

Who is that man behind the curtain? What does Max Lucado really believe? In order to maintain international superstar status, Mr. Apostate must continue to remain secretive and hide his true views of the doctrines of Christ. For to take any stand means criticism from one or more groups. It's tragic that a minister can wallow like a pig in apostasy, never take a stand on core doctrinal issues, and people will give him more money for teaching vague but widely accepted cute Bible stories. 2nd Timothy 4:3, "For the time will come when they will not endure sound doctrine; but after their own lusts shall they heap to themselves teachers, having itching ears." And so it is with Max Lucado, Joel Osteen, Joyce Meyer, Pat Robertson, Benny Hinn and other fakes on television and in the bookstores. Who next, the Antichrist?

You know, Christian books are priceless; but Max Lucado's books in my opinion are dangerous, because they steer clear of the fundamental doctrines of the Christian faith.

I knew a Church of Christ (COC) minister years ago. We debated frequently over the Bible. The man DIDN'T believe in either a literal heaven nor hell. He believed a wrong view of repentance which teaches a 'change of lifestyle' to be saved; instead of simply a 'change of mind' as the Biblical Greek teaches in Mark 1:15.

The minister also denied a literal 1,000-year reign of Christ during the Millennium. And of course he didn't believe in a Rapture either. Church Of Christ, Churches Of Christ, United Churches Of Christ, International Church Of Christ... they're are messed up!

Church Of Christ followers are taught that you have to try really hard to stop committing sins to be saved, as does Ray Comfort and Paul Washer. This is their false understanding of what repentance really means. This is not Biblical repentance unto salvation; but rather, self-righteousness of the worst sort (deceitfully repackaged as truth). Max Lucado is a wolf in sheep's clothing, wrapping his false views on repentance, baptism and salvation in basic Christian principles.


No Book Can Substitute For THE BOOK!

Please don't misunderstand, no Book compares to our beloved and inspired King James Bible. No book authored by man is inspired. Only the Bible is INSPIRED (God-breathed). Literally, God made sinful men holy in order to prepare them to be PENS to write His Words. God is the divine Author. For a much better explanation on this subject please read, HOW WE GOT GOD'S WORD. No book ought to be compared nor elevated with the GOOD BOOK!

Albeit, God has blessed us with the wisdom and knowledge of Christian men who've diligently studied the Word of God. The great DANGER is becoming dependent (reliant) upon books written by man instead of doing our own homework and study. Many people are being led astray these days by corrupt Bible-teachers that arrogantly pervert the truth into a lie.

The big problem with contemporary corrupt Bible-scholars is that they all use contemporary corrupt Bibles. I just wrote an article exposing the Holman Christian Standard Bible, which is published by the apostate Southern Baptist Convention (SBC). It is based upon the same corrupt Greek manuscripts of Westcott and Hort as the New International Version and Bad News For Modern Man. If you have a corrupt Bible, then all the fruit will be corrupt. The ONLY Bible that you can trust is the precious and inspired KING JAMES BIBLE (often called the 1611 "AUTHORIZED VERSION"). The most priceless Book is our believed King James Bible.

"I've devoted my life to the distribution of books, Bibles and tracts and anything that will help to further the Gospel of our Lord Jesus Christ. The reading of good Christian books is one of the best ways to challenge and encourage Christians." —Larry Harrison (Christian Book Gallery)
---
"Soul winning is not a method; it is a command. We are supposed to go soul winning and
do soul winning if our churches grow or if our churches decrease in attendance."
SOURCE: Pastor Jack Hyles (1926-2001), from chapter 10 of the book titled, ENEMIES OF SOULWINNING.

---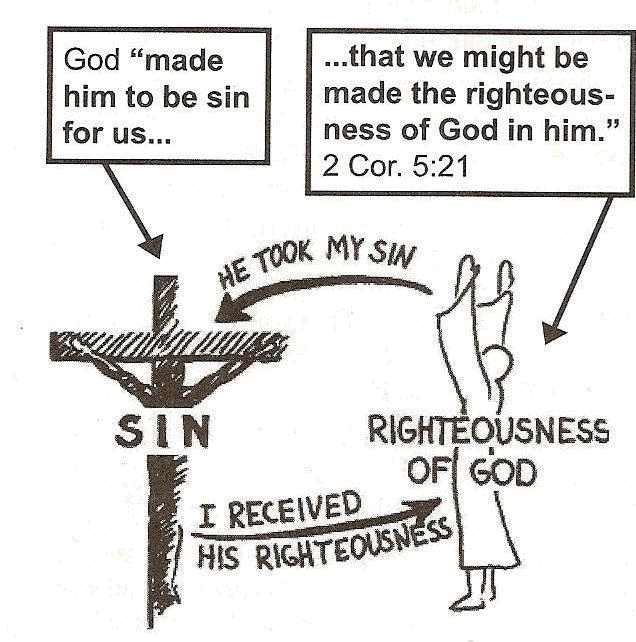 The Imputed Righteousness Of Jesus Christ
Why Lordship Salvation Is Wrong!
(an excellent MP3 sermon by Pastor Ralph Yankee Arnold)
---
"In flaming fire taking vengeance on them that know not God,
and that obey not THE GOSPEL of our Lord Jesus Christ." —2nd Thessalonians 1:8
Ye Must Be Born Again! | How to Be Saved