Ye See Him Not, Yet Believe
By David J. Stewart | June 2018
1st Peter 1:8, "Whom having not seen, ye love; in whom, though now ye see him not, yet believing, ye rejoice with joy unspeakable and full of glory."

What a beautiful and precious passage of Scripture. Even though we cannot see the Son of God, we still BELIEVE as Christians, and LOVE Jesus, and REJOICE with a joy that cannot be expressed in words; all because we know that our name is written in Heaven, and our sins have been forgiven, and we already possess life eternal, and our afflictions on earth are only temporal...

1st Peter 1:6-9, "Wherein ye greatly rejoice, though now for a season, if need be, ye are in heaviness through manifold temptations: That the trial of your faith, being much more precious than of gold that perisheth, though it be tried with fire, might be found unto praise and honour and glory at the appearing of Jesus Christ: Whom having not seen, ye love; in whom, though now ye see him not, yet believing, ye rejoice with joy unspeakable and full of glory: Receiving the end of your faith, even the salvation of your souls."

What a precious Savior!!! The Holy Bible openly acknowledges that we cannot see Jesus, which is the whole intent behind faith. If we could see Jesus, then it would be knowledge, not trust (faith). Since no one can conclusively prove the existence of God, the very element of doubt is an absolute essential to faith. The very nature of faith includes the reality of doubt. If there is no doubt, then there can be no faith (trust), because without doubt it would be knowledge. Again, 1st Peter 1:8 says, "Whom having not seen, ye love; in whom, though now ye see him not, yet believing, ye rejoice with joy unspeakable and full of glory."

Hebrews 11:24 and 27, "By faith Moses, when he was come to years, refused to be called the son of Pharaoh's daughter ... By faith he forsook Egypt, not fearing the wrath of the king: for he endured, as seeing him who is invisible." God is invisible, and yet anyone can see Him clearly if they choose to. Romans 1:20, "For the invisible things of him from the creation of the world are clearly seen, being understood by the things that are made, even his eternal power and Godhead; so that they are without excuse." I see God everywhere I look, because I choose to acknowledge My Creator and Savior.

God's favorite number is 7. I was thinking about this fact this morning as I went walking at sunrise. I saw a pretty rainbow today, and thought about the 7 colors of the rainbow. These 7 colors are often remembered by the acronym: ROY G. BIV (Red, Orange, Yellow, Green, Blue, Indigo and Violent). What a precious Savior! God is truly amazing!!!

Here are some of my recent photos that I would like to share with you all. I just bought a portable Canon camera to take with me everywhere I go, so I won't miss any more beautiful rainbows and awesome things in God's wondrous creation. I wanted something I could clip on my waist while walking, and I found this, which fits the camera perfect.

It's not an expensive camera, but it is very convenient for someone who walks, and I am thankful to God for it. I've already dropped it... ouch! I tried to take a self-shot and set it on top of my car, and along came some wind and it fell to the ground (I won't do that again). It is now officially used, with a nice dent and scratched paint on one of the corners, but it still works, so it has been christened with fire. Here are some recent photos from the new camera and a little explanation below them. ...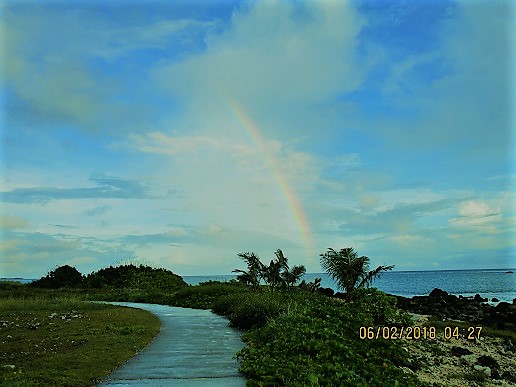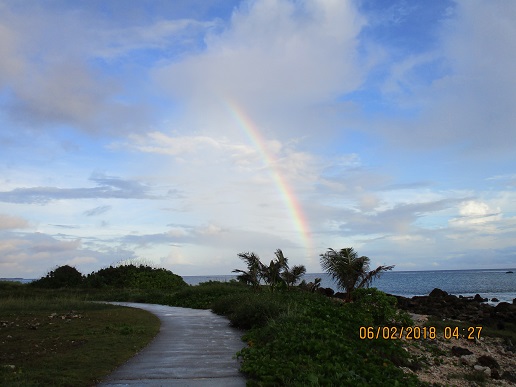 ABOVE: The second photo is the original. I have Windows 10, which comes with a nifty 'Photo Editor' that allows me to enhance photos. You can download the program for free from Microsoft, but I am not sure of the system requirements. I enhanced the first photo above and think it looks nice.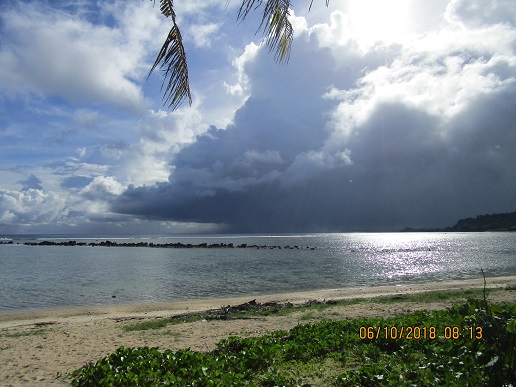 ABOVE: Asana Beach Park. You can see heavy rain falling beneath a big cloud in the distance. This is the Philippine Ocean. I am still learning how to use my camera, and like most guys, I haven't read the instructions yet. So I finally figured out how to get rid of the date and time stamp at the bottom, which future photos, Lord willing, shouldn't have. I myself don't prefer the time posted on my photos.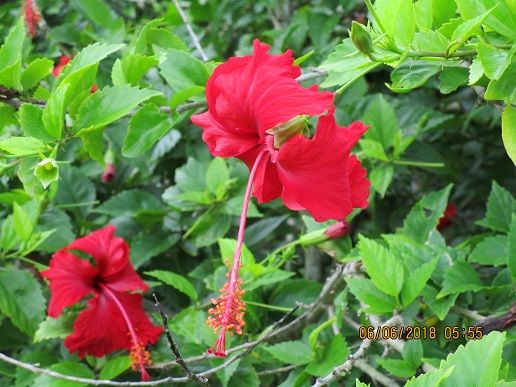 ABOVE: I have no idea what kind of flowers these are, but I saw them at Asan Beach and wanted to take a photo to share with my web visitors. Flowers always remind me that we need gloomy days in life. If everything in nature were as colorful as flowers, then we couldn't appreciate their beauty. We need those mundane looking green plants all in the background to allow the flowers to appear brightly. And we need all those mundane, boring, humdrum days in our life to truly appreciate those highlighted moments of joy, happiness, sweetness and God's wondrous goodness. God is a good God!!!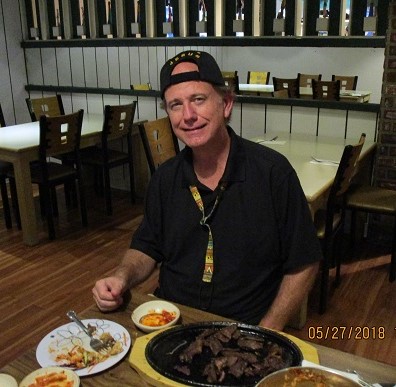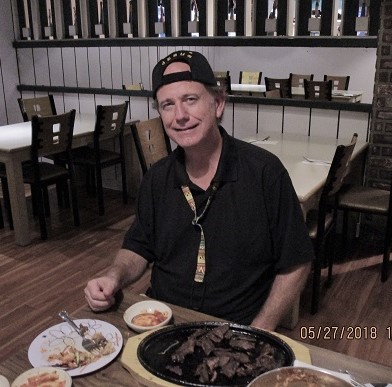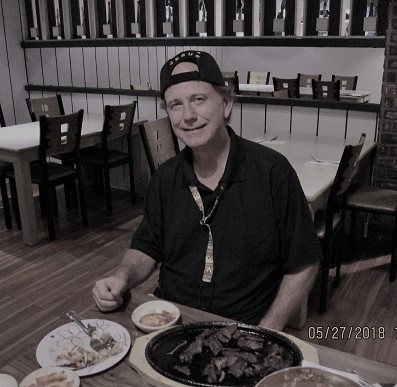 ABOVE: This photo was taken recently at my favorite Korean restaurant, eating beef Kalbi. Heaven on earth! I tried some different filters using Microsoft Photo Editor. I like the black and white photo on the bottom. If you're like me, you don't like most of your photos. I hate my driver's license photo (and I won't show you...lol). I thought the above photo was one of my better. Yes, I ate every bit of that, and then some! Half of the food is already gone in the photo. I love my Jesus hat! I like to wear my cap backwards because that's just me. I guess I'm still a teenager at heart, and wouldn't have it any other way. Also, I have kept my weight down, by God's grace. I weighed 215 pounds in February of 2017. I lost 70 pounds and reached 145 in June of 2017. That was on a completely empty stomach, while fasting, so with food and water I'm at about 155. One gallon of water weighs 8 pounds. My weight today in June of 2018 is 152 pounds. When my weight starts to creep up, and it wants to, I fast for a day or two. That Kalbi was really good!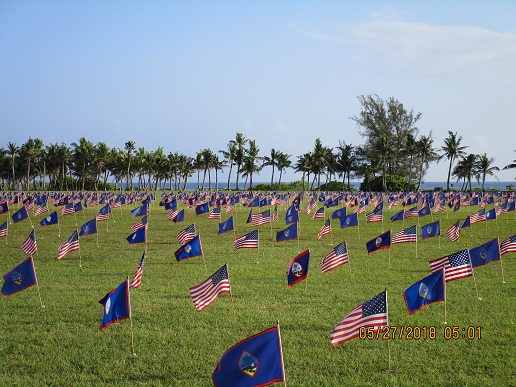 ABOVE: Every Memorial Day, the U.S. Navy puts out these flags at Asana Beach. On July 21, 1944 the U.S. military liberated the island of Guam from oppressive Japanese occupation. To honor the veterans in my heart, who gave their lives, I counted the flags, which totaled 3,162 flags! Despite my open criticism (as a concerned American) of the ungodly Military Industrial Complex, I am not oblivious to the veterans who served, suffered and sacrificed for our nation. Freedom is not free! I am not against the troops, I am against the Luciferian control over America, our media, military, court system and now even most churches, against the deliberate manipulation and subversion of our nation by wicked men, "against the rulers of the darkness of this world" (Ephesians 6:12). Thank God for brave men, and women!
---
As I mentioned earlier, God's favorite number is 7. Did you know that there are 7 notes in a music scale? Wow, isn't God awesome! There are 7 days in a week. There are seven spiritual weapons of warfare for every believer according to Ephesians 6:12-18 (salvation, the Gospel, faith, righteousness, prayer, the Word of God and truth). Sadly, most professed Christians today are defenseless, because they have traded in their Browning automatic King James Bible machine gun for a New International Version toy BB gun. And I guarantee you my friend that professed believers who are indifferent concerning the truth, Word of God and the Gospel (some of our primary weapons against the Devil and the world) are guilty of neglecting the other weapons of prayer, righteousness, faith and perhaps are not even saved).

It is encouraging to know that the Holy Bible acknowledges we believe in a Savior that we have not yet seen. And we love Him! Of course, if you are a born-again Christian like me, you do see the Holy Spirit, because we know Him and He lives inside of us. John 14:17, "Even the Spirit of truth; whom the world cannot receive, because it seeth him not, neither knoweth him: but ye know him; for he dwelleth with you, and shall be in you." Notice that the Holy Spirit is called the "SPIRIT OF TRUTH"! When a born-again believer walks close to the Lord, wallowing in the written Word of God, there WILL BE a burning passion in his soul for THE TRUTH!!! I have many faults, and I don't claim to be a good Christian, but God knows that I do love the truth and I do walk with Him.

If you were to see me in public, you'd likely see a genuine smile on my face. That smile is the Lord Jesus Christ in my soul. Evangelist Billy Sunday (1862-1935) was right, who said, "Give your face to God, and He will put His shine on it!" 1st Peter 1:8-9, "Whom having not seen, ye love; in whom, though now ye see him not, yet believing, ye rejoice with joy unspeakable and full of glory: Receiving the end of your faith, even the salvation of your souls." There is no joy, love and peace like knowing that your name is written in Heaven in the Lamb's Book of Life!!! You can have that unspeakable joy too my friend, if you don't already have it.
END OF ARTICLE
---
"That payment that Christ made, He put it to your account... Do you realize the opportunity that God has given to us, to be able to 'GO INTO ALL THE WORLD.' And the thing that bothers people, is this thing about sin, because of the guilt that it brings, and all the wickedness that it brings; and you and I are the ONLY hope the people in this world—God has left us here and we are their only hope, if we don't explain the Gospel and make it clear!" —Pastor Ralph "Yankee" Arnold; a quote from his sermon, "A Study of Romans Chapter 10."
The Superiority Of The King James Translators | 2 | 3 | 4 (excellent, Pastor Max D. Younce)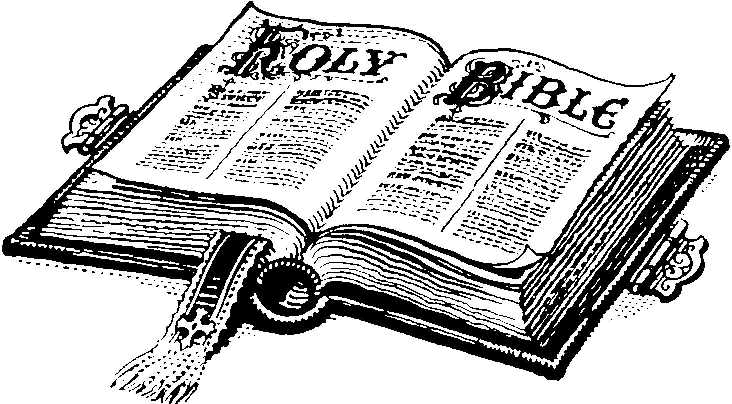 Dr. James Sightler: Defender Of The Inspiration Of The King James Bible!
Psalms 116:15, "Precious in the sight of the LORD is the death of his saints."
"The only inspired Words of God are in the King James Bible!"
—Dr. Jack Hyles (an awesome quote —Dr. Jack Hyles (THE REAL BATTLE!")
"And brother, any time anybody ever casts any reflection upon the accuracy and the inspiration—verbal inspiration—of this Bible, I'll guarantee you he was inspired by the demons. I'll guarantee you! I don't care if he's got a 'reverend' in front of his name. I don't care if he has a clerical collar on. I don't care what school he's been to. He's of the Devil if he says that the Bible is not verbally inspired by God!" —Dr. Jack Hyles, a great quote from the awesome MP3 sermon titled, "Satan's masterpiece"
BATTLE OF THE AGES (MP3 by Dr. Hyles, "The King James Bible crowd is going to come out on top!")
"The opposite of love is not hate, it's indifference. The opposite of art is not ugliness, it's indifference. The opposite of faith is not heresy, it's indifference. And the opposite of life is not death, it's indifference." ―Elie Wiesel

I am appalled at the indifference amongst professed Christians today concerning the corrupting of God's Word. They just don't care which Bible is God's Word. I'm talking about thousands of shameful apostate religious colleges today, that are INDIFFERENT toward the hundreds of perverted English Bibles, all of which are the Devil's way of depriving people of the true and pure Word of God. Consequently, there are many false plans of salvations being taught in the churches today, mainly the heresy of manmade repentance, aka, Lordship Salvation. Here is a truthful quote from Pastor Jack Hyles...

"God has a special rebuke, again and again and again in the Bible, toward those people who keep their neutrality in the work of God!" —SOURCE: Dr. Jack Hyles, a quote from the great MP3 sermon, "Where Were You In The Battle?"
---
"The Lord gave the word: great was the company of those that published it." —Psalms 68:11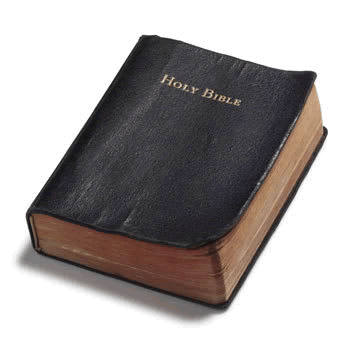 "How sweet are thy words unto my taste! yea, sweeter than honey to my mouth!" —Psalms 119:103
3rd John 1:8, "We therefore ought to receive such, that we might be fellowhelpers to the truth."
"Do all the good you can. By all the means you can. In all the ways you can. In all the places you can. At all the times you can. To all the people you can. As long as ever you can." ―John Wesley
---
Why There's A Hell
(MP3 sermon by Pastor Danny Castle)

"In flaming fire taking vengeance on them that know not God,
and that obey not THE GOSPEL of our Lord Jesus Christ." —2nd Thessalonians 1:8