Beware Of The Deadly Bob Jones University Cult
By David J. Stewart | November 2021
Romans 4:4-7, "Now to him that worketh is the reward not reckoned of grace, but of debt. But to him that worketh not, but believeth on him that justifieth the ungodly, his faith is counted for righteousness. Even as David also describeth the blessedness of the man, unto whom God imputeth righteousness without works, Saying, Blessed are they whose iniquities are forgiven, and whose sins are covered."

One of the most dangerous religious cults today is Bob Jones University. Sadly, because BJU had a fundamentalist Christian history up until 40 years ago, many former BJU students and alumni from the school's older days have been horribly sucked into the new Calvinist direction of BJU today. That is how the Devil changes things, incrementally, so that people don't realize that changes are happening until it's too late. ...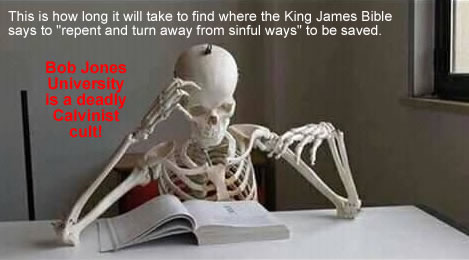 Dear reader, the Bible is full of commandments for the believe to contend for the faith (Jude 1:3), rebuke false teachers sharply (Titus 1:10-13), refute all works of darkness (Ephesians 5:11), and strengthen the things that remain lest they die. Revelation 3:2, "Be watchful, and strengthen the things which remain, that are ready to die: for I have not found thy works perfect before God." How did BJU, a once free grace Gospel institution, become a cesspool of iniquity for Calvinism? Please don't take my word for it, read what Dr. Steve Pettit (president of BJU since 2014) taught 2,700 faculty and students on January 26, 2015 in chapel:

"You can't just speak about getting saved, and you accepted Christ, and then that's it! There is a justification; There is a sanctification; There's ultimately a glorification, and though there are three parts, they are all part of the whole, and you cannot separate them. In order for you to qualify for the award, you have to get into the race, you have to stay in the race, and you have to finish the race. If you want to win, you have to run to the end; and winning in the Christian life is everything, because if you lose—if you don't finish—you lose everything—you lose your SOUL. And so, the Christian race is the life of faith that begins, is run, and is finished when we cross over into Heaven!" —Dr. Steve Pettit ("What Does It Mean To Run 'The Race'?" - 11:34)

What you just read is damnable heresy! Steve Pettit is an unsaved infidel, not a true child of God. Pettit clearly preaches a works-based false plan of salvation. Anybody who says otherwise need to get saved too! No man is saved who teaches that you cannot be saved in an instant and know it 100%! Steve Pettit is a child of the Devil. Many religious people go through all the motions of living the Christian life, but they have never truly been born-again, so they preach another gospel of partial faith in Christ plus works. We see this group represented in the Bible in Matthew 7:21-23...

Matthew 7:20-21, "Wherefore by their fruits ye shall know them. Not every one that saith unto me, Lord, Lord, shall enter into the kingdom of heaven; but he that doeth the will of my Father which is in heaven. Many will say to me in that day, Lord, Lord, have we not prophesied in thy name? and in thy name have cast out devils? and in thy name done many wonderful works? And then will I profess unto them, I never knew you: depart from me, ye that work iniquity."

There's your "Lordship" salvation right there! These religious people followed Jesus as their "Lord," preaching in Jesus' name, casting out devils in Jesus' name, and doing many wonderful works in Jesus' name. They foolishly thought that Christ would receive them because they loved, honored and worked so hard in Jesus' name. But they found out too late that you don't get to Heaven by following or serving Christ! You don't get to Heaven by running the race, living the Christian life, surrendering your will to God's, inviting Jesus into your life or turning away from your sinful ways. You can do all of those things and yet never have been born-again!

Jesus plainly warned in John 7:21 that to get to Heaven you must do THE FATHER'S WILL. The Father's will according to John 6:40 is to BELIEVE ON CHRIST! John 6:40, "And this is the will of him that sent me, that every one which seeth the Son, and believeth on him, may have everlasting life: and I will raise him up at the last day." That is how you get born again, by faith alone in Christ alone. Acts 16:30-31, "And brought them out, and said, Sirs, what must I do to be saved? And they said, Believe on the Lord Jesus Christ, and thou shalt be saved, and thy house." Repeatedly in the Word of God we are simply taught to BELIEVE IN CHRIST to have eternal life.

So where in the world do all these false prophets today come up with a bunch of extra requirements to be saved, that God does not demand? You cannot show me even one Bible verse that says to repent "of your sinful ways" to receive God's free gift of eternal life. Wicked men have added that unbiblical requirement, which has prevented millions of lost sinners from being saved. Repentance is a simple "change of mind," of laying aside WRONG THINKING to instead believing the Gospel (Good News) of Jesus Christ.

I cannot sound the warning bells enough about Bob Jones College and their corrupted complicit graduates! I am a much hated and despised preacher because I have taken an uncompromising stand against the Devil's crowd at Bob Jones. Wicked corrupt churches like the shameful Harvest Baptist Church on Guam sinfully promote and bid Godspeed to Steve Pettit, Marty Herron, Chuck Phelps, Gary Walton and other reprobates of the faith. If you think a person cannot be saved until they are willing to forsake a lifestyle of sin, you are not saved either. Giving up your sinful ways has nothing to do with getting saved. Being sorry for sins is not repentance! Christ's apostle Judas "repented" in Matthew 27:3, but he still died in his sins and went to Hell. Reformation (turning from sins) is not repentance! Our churches are in big trouble folks. Today's pathetic churches are awash with false teachings and a counterfeit gospel of Calvinism.
Corrupt Bibles Lead To Corrupt Doctrine!

How did BJU get this way? What happened? Obviously they let down their guard over the decades, but where did it start? I'll tell you exactly what happened—BJU welcomed the modern corrupt Devil's Bibles, which corrupted their good doctrine! The Greek word for "repent" in Mark 1:15 in the King James Bible is metanoeo, which means, "to think differently." This is the verb form of the word. The noun form is metanoia ("a change of mind"). Repentance is a simple change of mind. It DOESN'T mean to "change your hearts and lives," which is what the corrupt ERV says!!! . . .

KING JAMES BIBLE (KJB) — Mark 1:15, "And saying, The time is fulfilled, and the kingdom of God is at hand: repent ye, and believe the gospel." [emphasis added]

EASY-TO-READ VERSION (ERV) — Mark 1:15, "He said, "The right time is now here. God's kingdom is very near. Change your hearts and lives, and believe the Good News!" [emphasis added]

WICKEDNESS!!! That is wrong, wrong, wrong! Do you see how the Devil has perverted the Gospel by redefining what it means biblically to "repent"? Bible repentance is "a change of mind," not "a change of heart and life." You cannot show me anywhere in the inspired King James Bible that says to "turn from sin" or "repent from sin" to be saved. Acts 20:21 speaks of "repentance toward God," not from sin. 2nd Timothy 2:25 speaks of repentance to acknowledge "THE TRUTH." We are saved by BELIEVING, not repenting. Yes, repentance is necessary for salvation, but to "repent" simply means to change your mind so that you will believe the Gospel. Repentance is automatic. No one has ever believed who didn't also repent. You don't need to tell a lost sinner to repent. God Himself authored the Gospel of John for the specific purpose of leading lost sinners to Christ. John 20:31, "But these are written, that ye might believe that Jesus is the Christ, the Son of God; and that believing ye might have life through his name." Yet, God doesn't mention the word "repent" even once in the Gospel of John. Instead, we find the word "believe" mentioned 88 times in John.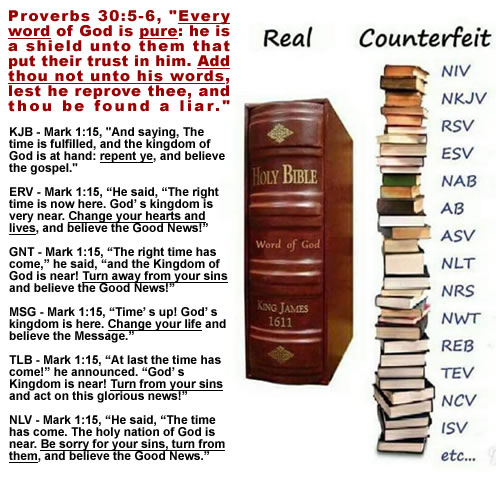 Satan Has Redefined Key Theological Terms To Corrupt Sound Bible Doctrine
By redefining what it means to "repent," the Devil has corrupted and changed God's simple plan of salvation, making it complicated. Pastor Chuck Phelps and other infidels have sinfully corrupted and redefined what "faith" means. Pastor Phelps at 11:10 time in his heretical sermon titled "False Faith" says:

"If you're professed faith has not produced CHANGE it's false faith. He's saying if your confession has not CHANGED YOUR LIFE, it will not result in eternal life. What you say with your lips must be backed-up with your life, or it's false faith!" [emphasis added] —Pastor Charles Phelps, "False Faith" (time - 11:10; November 1, 2009 - Sunday morning)

Dear reader, what you just read is totally unscriptural. If you have to look at your life to prove that you are saved, it proves that you are not!!! Salvation is a new birth, not a reward or exchange. Salvation is received, not achieved. Salvation is a TAKE proposition, not a GIVE proposition. God wants you to by faith freely TAKE His free gift of eternal life. God is already offering eternal life to you, so you don't need to ask for it. God is already offering His gift freely to you. If you will simply by faith take God at His Word, believing what He has recorded in His Written Word, you will be instantly and forever saved. Acts 16:30b-31, "Sirs, what must I do to be saved? And they said, Believe on the Lord Jesus Christ, and thou shalt be saved, and thy house." All we are taught to do to be saved is to BELIEVE!!!

I have done much research into the different major religions of the world. There are approximately 4,400 different religions today in the world. One of the deadliest is Seventh-Day Adventism. The bedrock doctrinal foundation of SDA is based upon the many writings of Miss Ellen G. White (1827-1915). Tragically, the demonic doctrine of Steve Pettit, Marty Herron (executive vice president of Faith Baptist Bible College And Theological Seminary in Ankeny, Iowa) and Chuck Phelps perfectly align with Ellen G. White's damnable heresy. In the SDA religion, faith is redefined to encompass keeping God's Ten Commandments. This is exactly what Chuck Phelps teaches. If you claim to be saved, but have not turned away from a lifestyle of sinning, these wicked false prophets all say that your faith is false, and you are not saved. This is a backdoor approach to keeping the works of God's law to be saved.

Romans 3:19-20, "Now we know that what things soever the law saith, it saith to them who are under the law: that every mouth may be stopped, and all the world may become guilty before God. Therefore by the deeds of the law there shall no flesh be justified in his sight: for by the law is the knowledge of sin."

The purpose of God's Old Testament law in salvation is to give humanity THE KNOWLEDGE OF SIN, so that we will realize our guilty condition and repent (change our mind) concerning our self-righteousness (to silence our self-righteous boasting), so we'll instead BELIEVE ON JESUS to be saved. It's that simple folks!

What really bothers me in that most professed Christians today, including shameful church pastors, refuse to say anything negative against Bob Jones University or their corrupt graduates. I'm talking about shameful pastors like Jeff Redlin and Tim Zacharias at Campus Church at Pensacola Christian College (PCC). I had attended Campus Church for a few months and was quickly disgusted by Jeff Redlin's cowardice, lack of compassion for others, and his haughty arrogance that compelled him to criticize my website ministry for exposing the BJU camp. Sadly, Jeff Redlin actually defended Bob Jones College and their corrupt graduates, falsely accusing me of finding "weaknesses" in them. No, I am exposing damnable heresies being preached by unsaved reprobates in the Bob Jones camp. SHAME on Jeff Redlin and Campus Church. SHAME on the PCC camp for not standing, for not "earnestly contending for the faith once delivered unto the saints" (Jude 1:3b). Somebody's got to care! I CARE!!!


The Gospel Can Use Your Help

How about you dear reader? Do you care about right doctrine? I can sure use your help exposing false teachers and propagating THE TRUTH. If nothing else, you can serve God by helping to promote my website ministry, earning yourself rewards in Heaven. Matthew 9:41, "For whosoever shall give you a cup of water to drink in my name, because ye belong to Christ, verily I say unto you, he shall not lose his reward." That verse means you will be rewarded for anything done to help another servant of Jesus Christ. Our dear Savior is very ethical and fair. Hebrews 6:10, "For God is not unrighteous to forget your work and labour of love, which ye have shewed toward his name, in that ye have ministered to the saints, and do minister." God will reward you for every keystroke, every mouse-click and anything done for the cause of Jesus Christ. The Gospel can use your help friend!

We are at war today over the truth. One of the great joys of the Christian life is to contend for the faith. For the past 19 years since 2002 I have diligently and faithfully preached THE TRUTH online around the world, earnestly contending for the Christian faith. I have never made nor received a single penny for my website labours, not will I ever. This is a labor of love. I love God, truth and people!!! As David said in 1st Samuel 17:29b, "Is there not a cause?" Yes dear reader, there is a cause! The world is going to Hell. Lost sinners need to hear THE TRUTH of the Gospel so they can be saved and go to Heaven. If we don't tell them, who will? If not now, when? If not here, where?

It is tragic that so much deception has crept into today's Bible colleges and churches. Since Bob Jones University (BJU) trains tens of thousands of young people, they are contaminating and sending out damnable heretics by the thousands to work in the churches. It is so horrible and evil. Calvinism is NOT the Gospel, not even close! Calvinism instills fear into its followers, so that you can never really know if or when you are saved, because you are required to persevere to the end to make it to Heaven. That is exactly what Dr. Steve Pettit at BJU preaches, and it is of the Devil.
END OF ARTICLE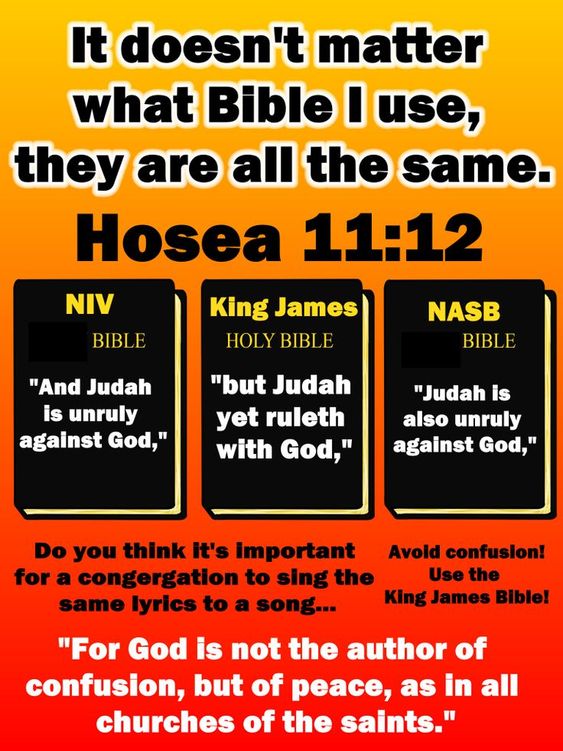 ---
"If you do not put a difference between justification wrought by the man Christ without and sanctification wrought by the Spirit of Christ within, you are not able to divide the Word aright; but contrariwise, you corrupt the Word of God, and cast stumbling blocks before the people." —Evangelist John Bunyan
---
Truth + Half Truth = a Lie
Romans 16:17-18, "Now I beseech you, brethren, mark them which cause divisions and offences contrary to the doctrine which ye have learned; and avoid them. For they that are such serve not our Lord Jesus Christ, but their own belly; and by good words and fair speeches deceive the hearts of the simple."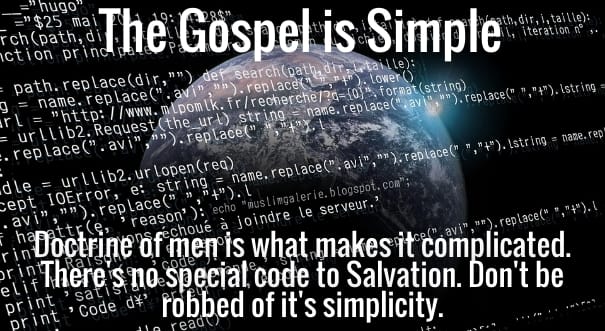 1st Kings 18:17, "And it came to pass, when Ahab saw Elijah, that Ahab said unto him, Art thou he that troubleth Israel?"

END OF ARTICLE
"A man doesn't get better to get saved; he gets saved to get better."
—Pastor Curtis Hutson (1934-1995), "Salvation Crystal Clear."
---

Why There's A Hell (MP3 sermon by Pastor Danny Castle)
HE THAT WINNETH SOULS IS WISE! (Dr. John R. Rice)
"Baptismal regeneration is one of the most damnable heresies!"
—Pastor Max D. Younce, a quote from his excellent Bible study, "WHEN I SEE THE BLOOD - AND NOAH BUILDED AN ALTER (361)"

The Gospel In Just One Minute (by Pastor Max D. Younce)
"In flaming fire taking vengeance on them that know not God, and that obey not THE GOSPEL of our Lord Jesus Christ."
—2nd Thessalonians 1:8
---
This website created in Jesus' name!